A few months ago I reviewed a book of cool garden projects that anyone can make, often with stuff you probably already have on hand in your garage or shed or basement:
Handmade Garden Projects by Lorene Edwards Forkner
. In my review, I mentioned that I wanted to make one of the projects she demonstrated in the book -- an Old World water feature. (Keep reading to find out how you can win a copy of Lorene's book). Read my review
here
.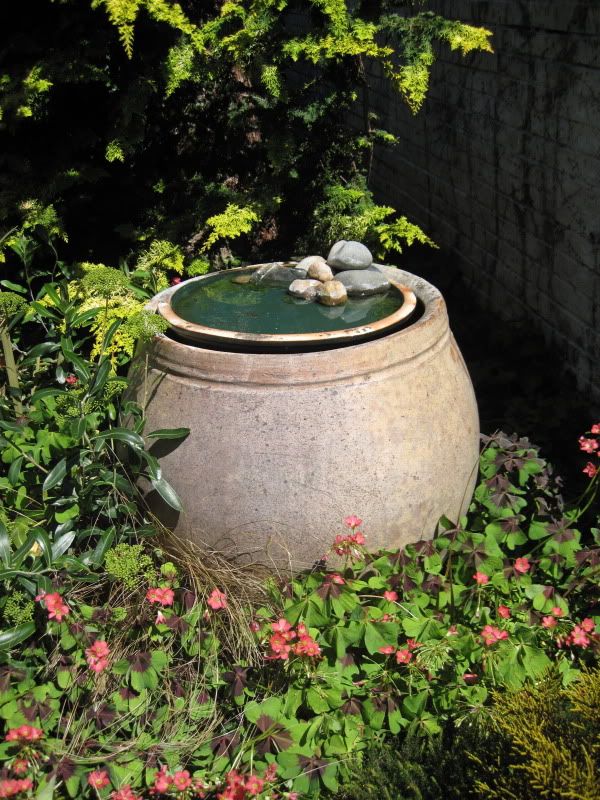 Lorene's version
Well, today I made it!
Here's mine!
I've been hunting down the parts I needed for it for a while, and finally found them all. It requires a pot without a hole, which is not an easy thing to find, at least not cheaply. I've been going to thrift stores and junk shops for a while, but I eventually found what I wanted at Marshall's. Then I needed to find a plate that would not only go with the colors in the pot, but would also fit the opening, which also wasn't easy, because it needed to be bigger than a regular dinner plate. Found the right one at a thrift store, for about 3 dollars. Lorene recommended using a plant stand to support the plate, but that was also not an easy find. Finally, at Target, I found a wire candle holder that would work.
Wire candle holder to support plate
The pump and the PVC tubing came from Amazon.
I ordered both the pump (a Little Giant submersible PES100, with a flow of 95 gallons per hour) and the tubing (1/2 inch flexible PVC) from Amazon. The pump cost $34.64 (by far the highest cost of the project), and the tubing was $8.08 for 20 feet (I had plenty left over).
I inserted the candle holder into the pot, and weighed it down with a couple of rocks. Then I filled the pot with water, inserted my pump, and threaded the flexible tubing and electrical cord up beside the edge of the plate, and over, and then held the pipe down with more rocks. Once I knew how long I needed the pipe to be, I cut it off, plugged in the pump, and away she went!
The final touch was a cute little ceramic bird, sitting in the water.
It sits by the front door, surrounded by pots planted up with a variety of leaf shapes and flowers.
Mine is smaller, and a little more Cute Cottage Garden than Old World, but that fits my garden well. And it still makes the same tinkly sound.
Now, you can win a copy of Lorene's book from Timber Press (complete with much better directions for how to make this water feature). All you have to do is leave a comment here (please make sure there is a way for me to notify you if you win). In addition, you can share my post on Facebook (if you leave a comment AND share the post, you get two chances to win!). I'll put the names in a garden pot and let Nigel pull out the winner (I know he'll enjoy virtually grabbing one of you!) You have until midnight Pacific Time on Tuesday, May 22, 2012 to enter.
This post is part of a virtual book tour, sponsored by Timber Press. If you visit the other blogs on the tour, you might find more chances to win, as well as others who have made cool projects from the book.
Visit these other blogs for more chances to win!