There are literally hundreds of vendors selling stuff at the show. Some of the items are rather tangential to gardening, like gutter shields. But then there are loads of plant vendors, and garden decor, and tools, and, and, and...
Glass garden ornaments are very popular in this part of the country. The PNW is home to famous glass artist
Dale Chihuly
, who was born in Tacoma. He has done art intallations all over the country, and the world, including the Royal Botanic Gardens in Kew. There are lots of glass garden ornaments for sale all over the NWFGS, but in my opinion, the best is Barbara Sanderson, who runs Glass Gardens Northwest.
Readers may recall I bought some art from her to put in my garden back in the summer. Well, on my first day at the show, one of the first places I went was her booth, where I bought three of her "Glacicles," similar to the clear ones in the pot in my next picture. Mine are teal. It's hard to see in the picture, but they are very prickly. I'm planning to install them in the garden in a tight cluster, in hopes that they will look kind of like an agave.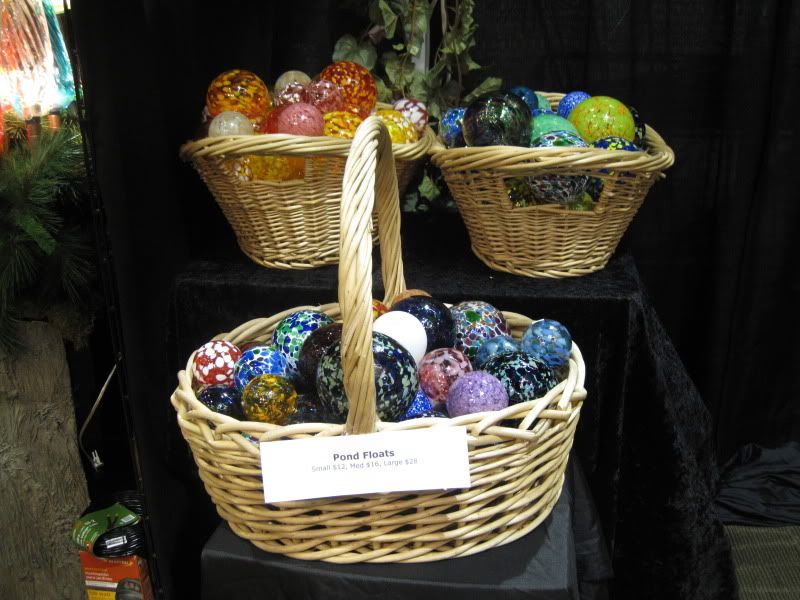 She also makes pond floats...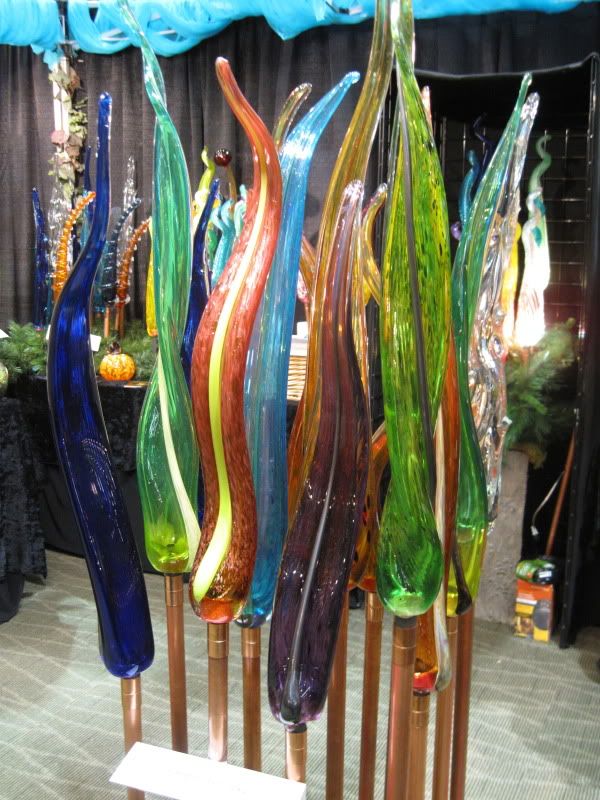 ...and colorful wavy leaves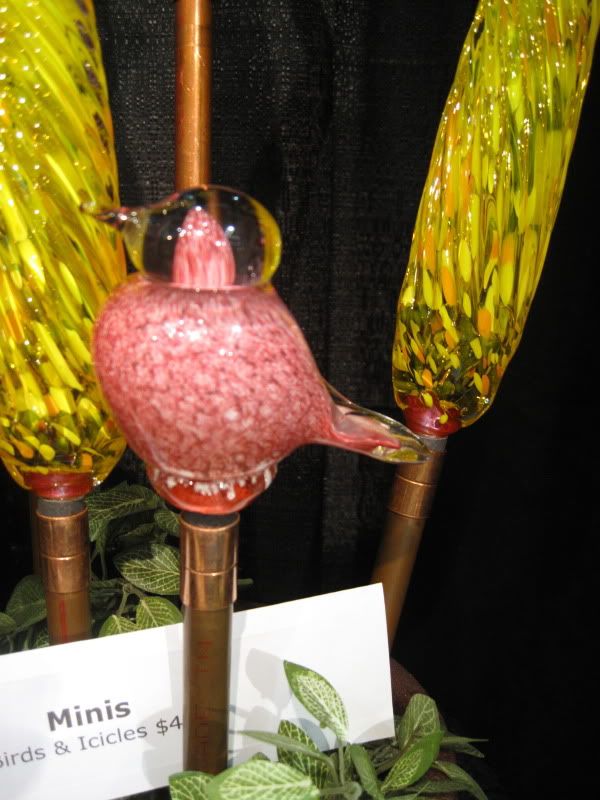 ...birds...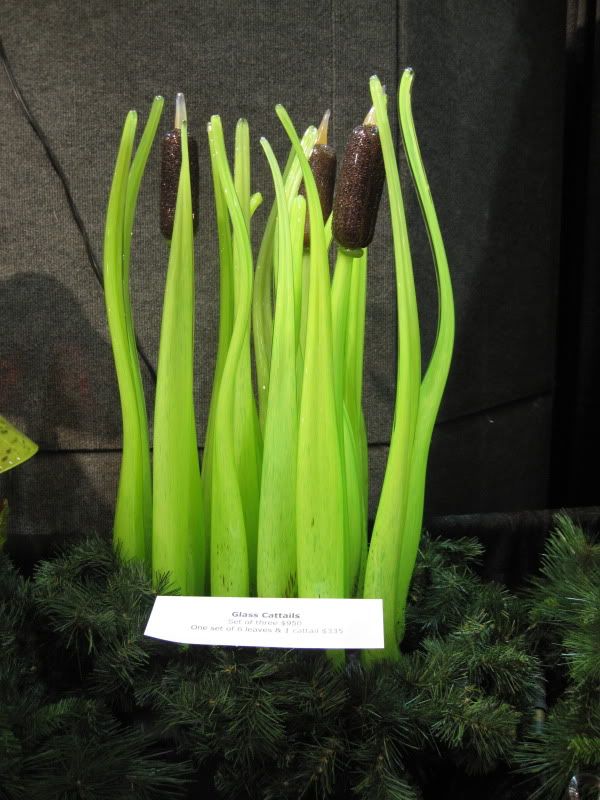 ...cattails...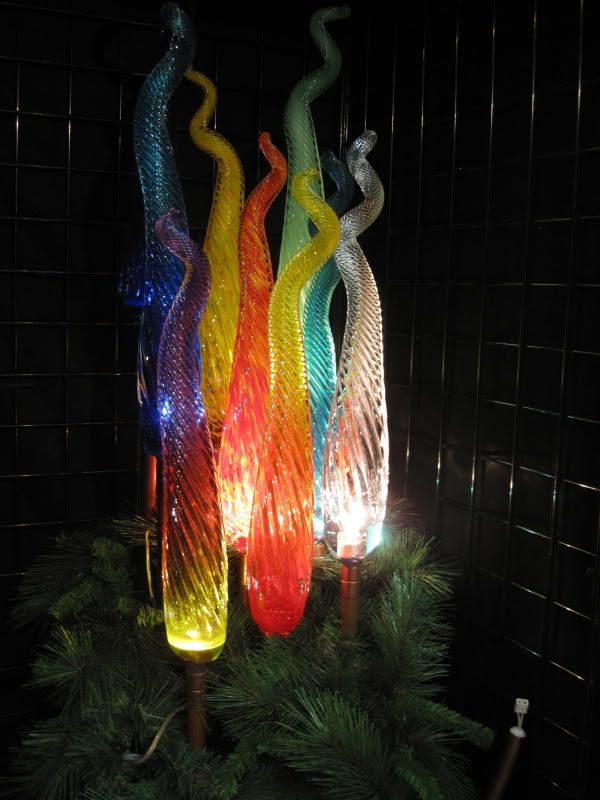 and wavy icicles with lights in them.
I'm always on the lookout for a good birdhouse with lots of character. I was tempted by some of these, but they didn't hit just the right spot with me. I'd like to find one made out of reclaimed barn wood, with lots of found objects on it. I saw some like that many years ago, but didn't buy one, and have always regretted it.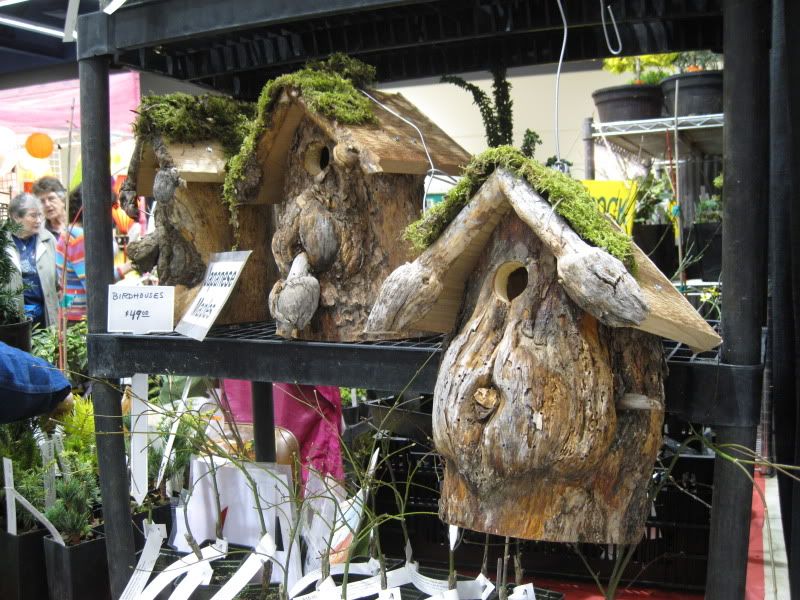 These have a lot of character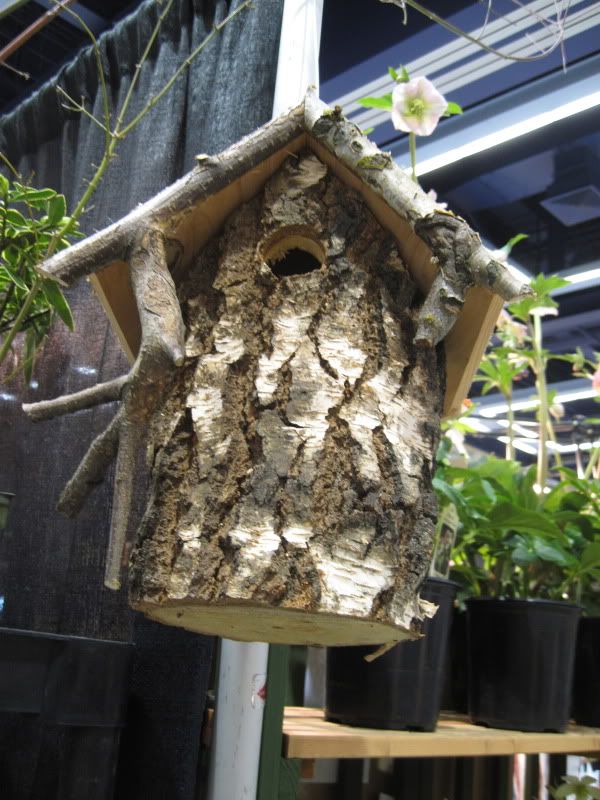 This one too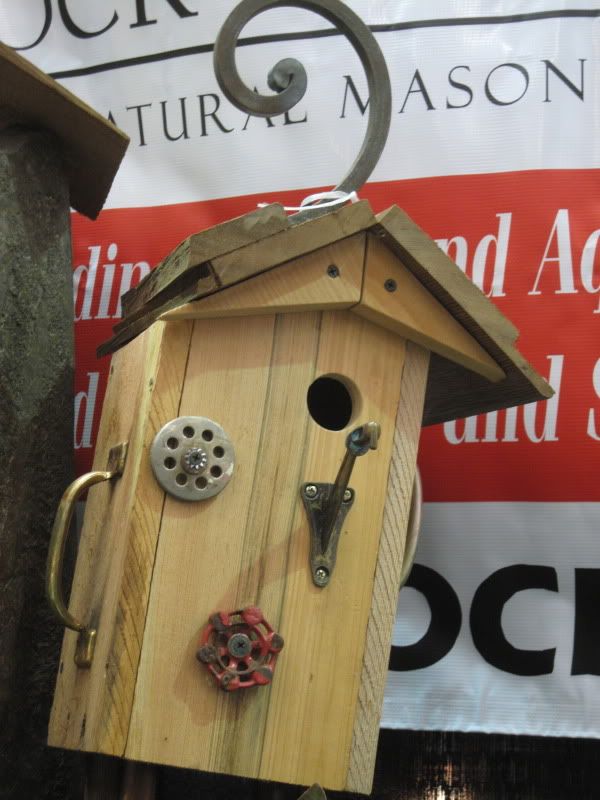 This comes close to what I'm looking for, but is a little too new-looking.
There are several booths I plan to check out one last time tomorrow when I go back to the show. When I first saw these strange ceramic pots at last year's show, they were really off-putting. But they're kind of growing on me. Some are totally bizarre, but there's something about the aesthetic that draws me. But they won't really fit in with anything else in my house or garden.
I can't really see putting plants in some of them, but a brain coral would fit right in. She also makes intriguing tiles, which could fit in as an ornament on some of the cement pieces I've been working on lately.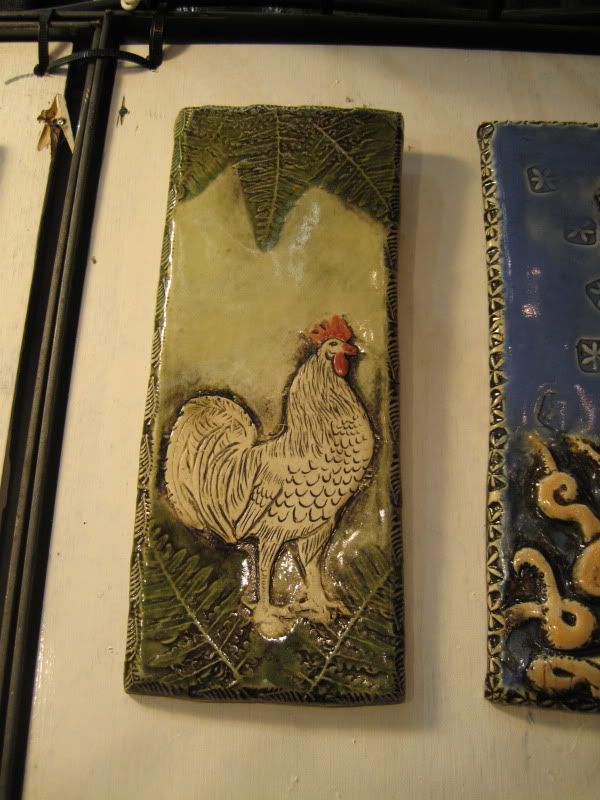 WooHoo! A chicken!
There are a couple of antique/junk vendors there, with some interesting pieces. This looks like it's made of doors, with a shutter laid across the top.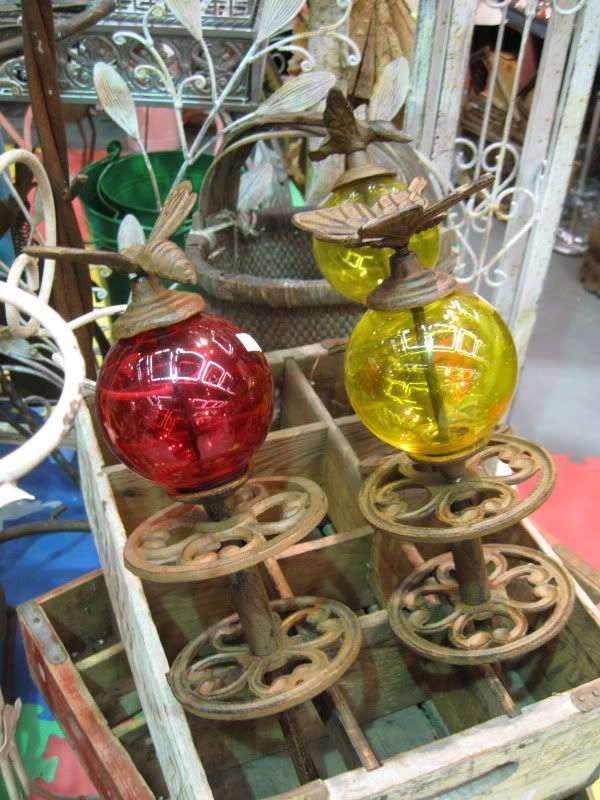 I like these old hose guards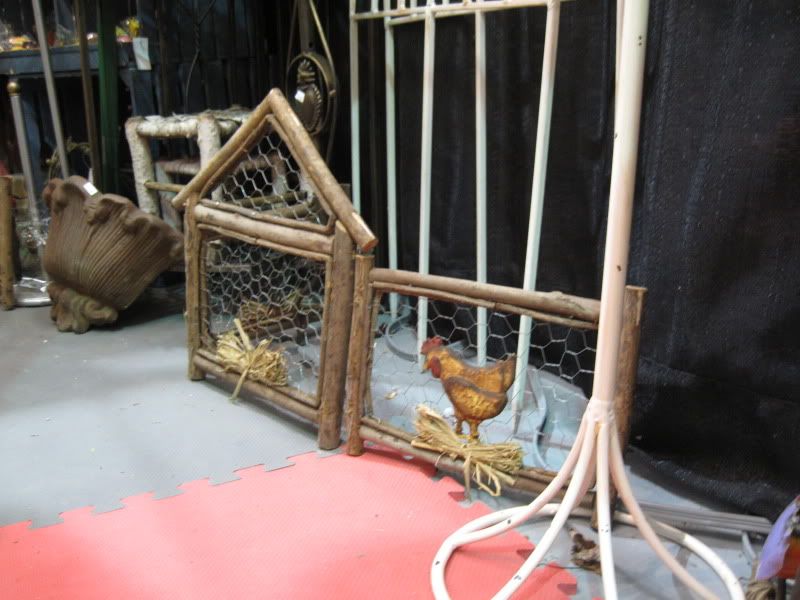 And this little section of short fencing (chickens!)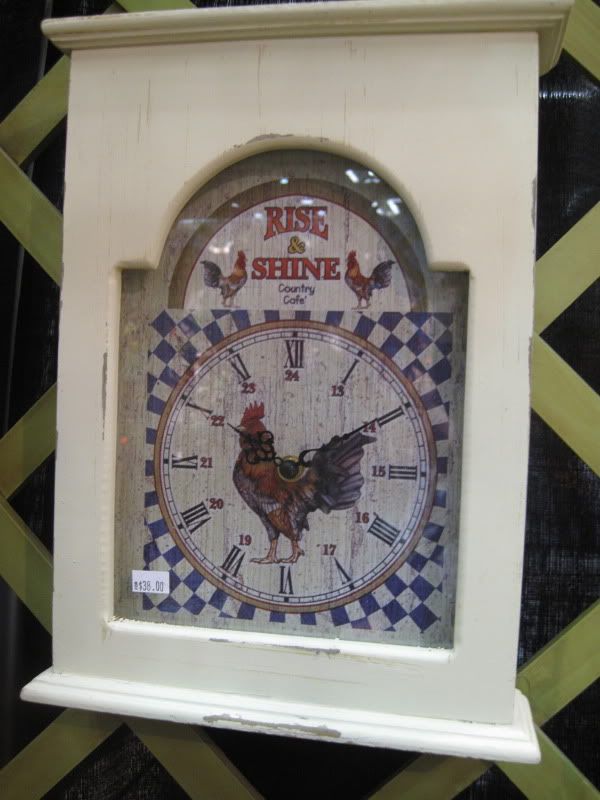 How about a chicken clock?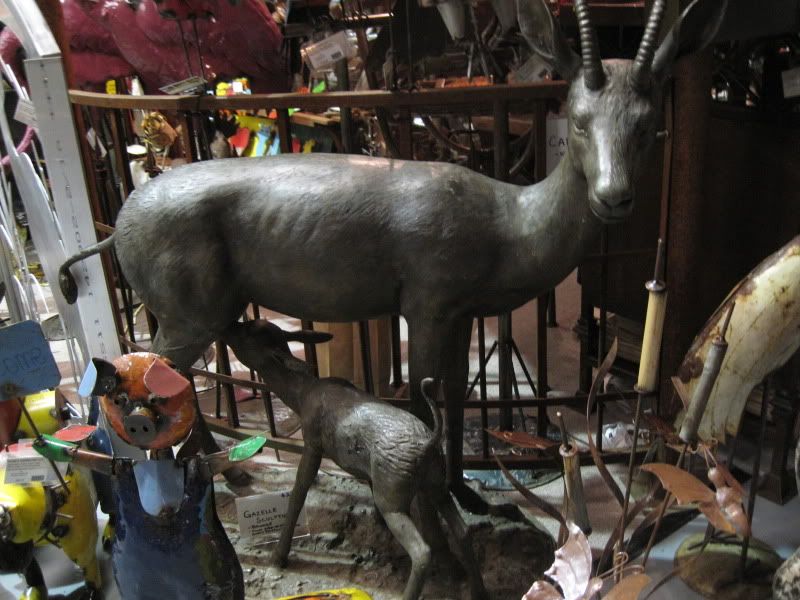 I would love to have this life-size gazelle with her nursing baby, but not for almost $3,000.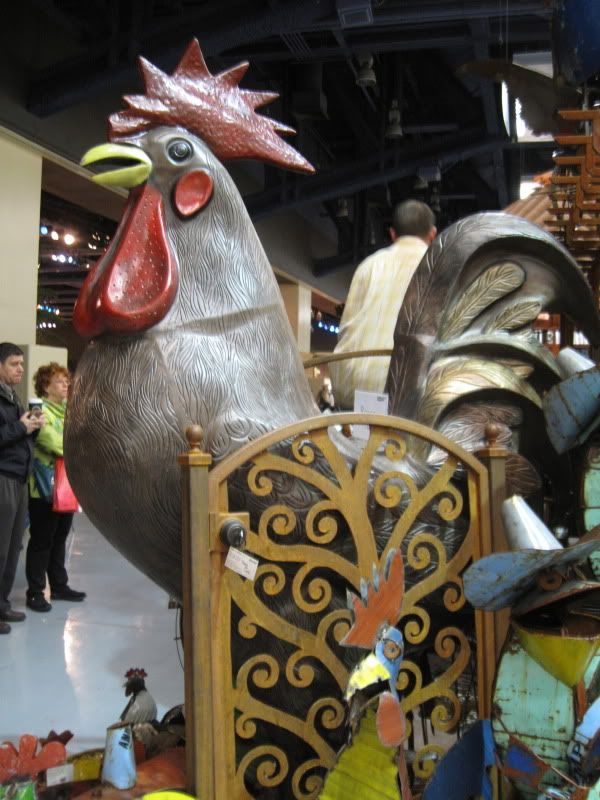 This giant rooster was big enough to ride like a horse
I like this wood shed by Bob Bowling Rustics, who makes all kinds of stuff out of reclaimed materials.
I could find a spot for this rusty pot, but I doubt I could get it home.
Well, I'm going back one last time tomorrow, to finish my shopping. I don't want the show to end with me regretting that I didn't buy that one last thing that I can never find again.